YOUR SUPPORT MEANS EVERYTHING, THANK YOU!
Our purpose is to create a one of a kind handmade piece, designed with love just for you. From start to finish, we pour our heart into each piece to make it perfectly beautiful, durable and lightweight. All of our earrings are made slow in small batches, stainless steel and nickel free earring backs to make them safe to wear, including sensitive ears.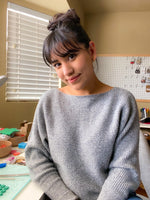 Meet Your Clay Maker
Hello friends, my name is Genesis owner and creator of Ever Clay this idea was a result of two months of quarantine once COVID-19 hit. I've always consider myself a crafty person from creating candy bars, to balloon garlands until my hands landed in polymer clay. I decided to make it official August of 2020 and it's been a great journey, I never thought that people would respond in such a positive way towards my business which until this day I cannot thank you enough. 
Aside from this business I'm a mom and wife, I'm blessed to have my family as my support system I really want to show them that with determination and hard work anything is possible.
I hope you like what I do and come along with me through the journey of this business that I've created and adore very much 💗
With love, Genesis.
Testimonials
I've purchased about a dozen of your beauties and I adore them all. Quality work!!

Julie Armstrong
I always get so many compliments! Thank you for such cute earrings

Iliana Cruz
FOLLOW US ON SOCIAL MEDIA @EVER.CLAY